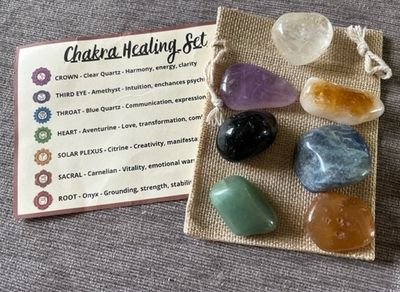 Chakra Healing Set
$20.00
or 4 interest free payments of $5.00 with
learn more
Each of the 7 chakras represents a physical, emotional or mental state, helping to enrich one's spirit and well-being. The chakra stones are used to balance the chakras on a daily basis and to enhance chakra healing.
Includes Clear Quartz, Amethyst, Blue Quartz, Aventurine, Citrine, Carnelian, Onyx
a bag for storage and an information card they make a meaningful gift.
How to use them:
1) Healing crystals / Healing stones.
2) 7 Chakras stones.
3) Reiki.
4) Massage.
5) Worry stones.
6) Decoration.

SKU: 10000-116