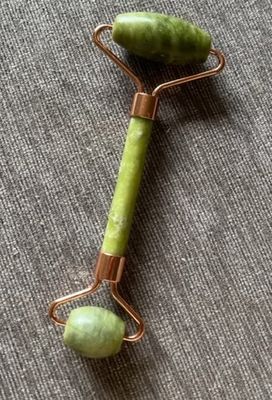 Serpentine Facial Roller
$28.00
or 4 interest free payments of $7.00 with
learn more
This Serpentine Facial Roller is made from 100% Serpentine with an alloy gold plated handle.
The face massager tool will not only promote blood circulation and relax facial muscles, but also help to minimize fine lines, wrinkles, puffiness and dark circles. Bringing you beauty, health and natural brilliance. The larger roller is for rolling the cheeks, chin, larger surfaces, and the smaller roller for rolling under the eyes, and small areas of the body.

Use the jade roller with your favorite skin care for the best experience.
This roller can be kept in the fridge to enhance the calming and soothing effect.


SKU: 10000-100